Carlton's 17-point win last Friday night against top-of-the-ladder Collingwood has continued their amazing run in the second half of the season to potentially play finals for the first time in a decade.
The Blues had a very promising run at the start of the season remaining undefeated in the first four rounds, until only one win following their next nine matches raising serious concerns for the sudden downfall.
Sitting 15th on the ladder at the end of Round 13 it looked as though the Blues would once again miss the finals series being in the bottom four halfway through the season.
However, the Blues have won their past six matches by an average winning margin of 51.67 points including massive defeats over top two sides Port Adelaide and now Collingwood joining the Blues' hot streak.
So what has changed for the Blues from Rounds 1 through to 13 to have suddenly turned their season around from being placed in the bottom four, into finals contenders against the rest of the competition?
From Round 14 onwards the Blues were much more dominant than their opposition around stoppages, averaging 44.17 clearances seeing a 9.09 increase.
The Blues too have been cleaner with the footy and prioritising their opportunities more when inside their forward 50 now averaging 54.33% efficiency seeing a 7.1% increase, to converting 114.187 points per match seeing a massive 41.86 point increase.
The Blues have been applying far more pressure against their opponents when they have the ball in their possession, they have been averaging 70.17 tackles a match seeing a whopping 14.25 increase which is a significant difference.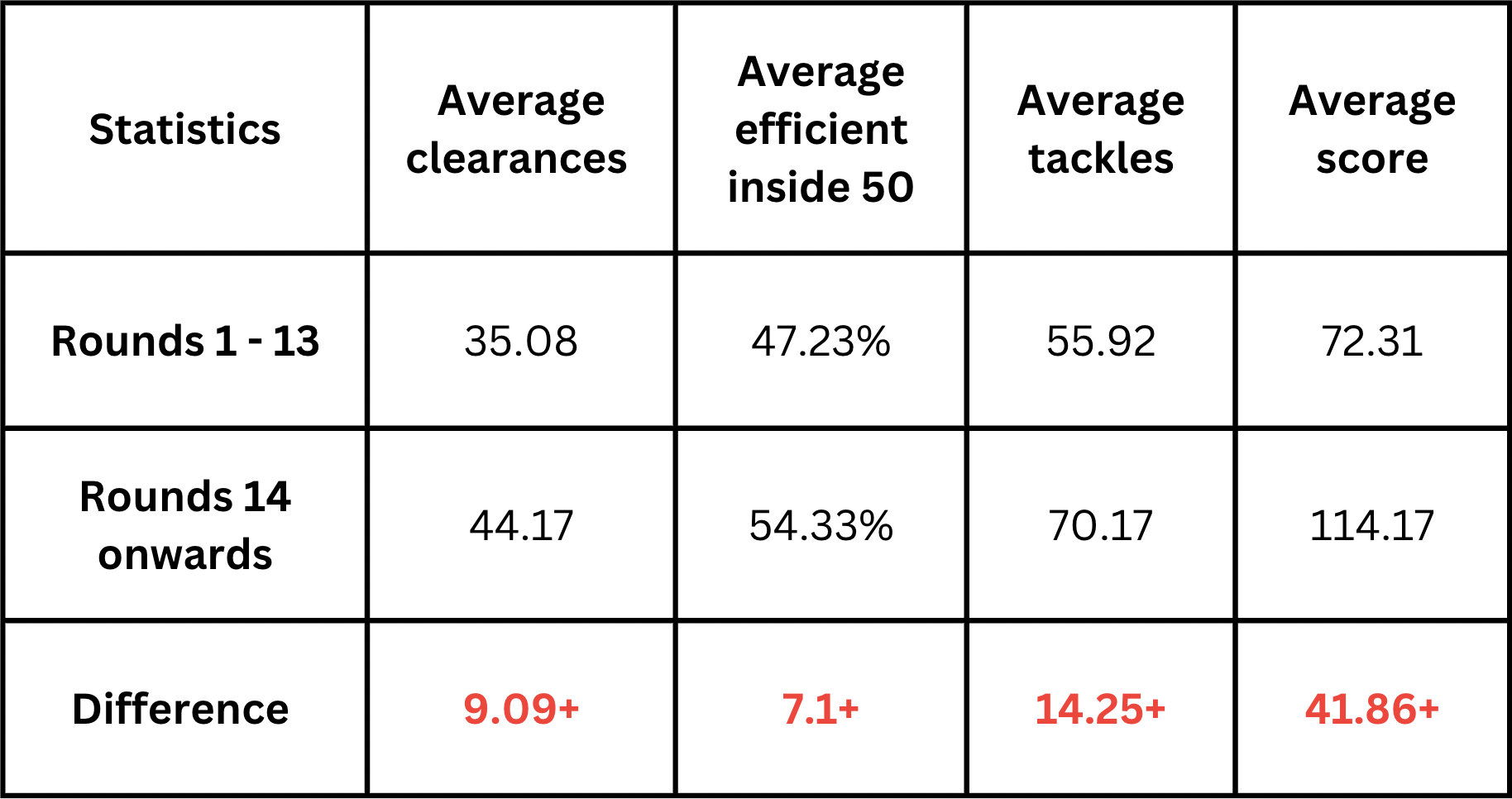 For the Blues to have been playing their best footy all year with the injuries of Coleman medallist Hary McKay, rising star Sam Walsh, as well midfielders Matthew Kennedy and Adam Cerra is a huge feat accomplished.
For Carlton to have played such incredible football against Premiership contenders despite a lot of their in-depth players out of the side is magnificent for fans to enjoy.
The Blues have four matches including three in the top eight to play in the home and away season against St Kilda, Melbourne, Gold Coast, and the GWS Giants.
Carlton sits seventh on the ladder and will need to continue their winning form if they are to be playing finals, the Blues can not afford to drop their work rate now given how crucial this is for the club.
If the Blues were to make finals it would be their first appearance since 2013 where Carlton finished ninth but made the top eight due to the Essendon drug scandal.