For many years, the Cronulla Sharks as a club have been trailblazers for women's rugby league.
Back in 2016 the Sharks signed Australian Jillaroos and New South Wales Blues captain Ruan Sims on the first Rugby League women's contract.
As well as featuring in an early club women's fixture against the St George Illawarra Dragons, the Sharks made their intentions known when the licence process was announced for the first edition of the National Women's Rugby League Premiership in 2018.
But, the Sharks missed out on a licence to the disappointment of the club and its members.
Since then, the Sharks commitment to women's rugby league has only increased with a committed pathway including a team in the Tarsha Gale Competition and the Harvey Norman Women's Premiership. It placed the Sharks in an ideal position to secure one of the licences for the competition this year.
This long term commitment to women's rugby league means that the Sharks women have a strong supporter base and they have come out in the thousands in the opening weeks of the competition.
New recruit Ellie Johnston says that the level of support that she has received from fans has been unmatched in her women's rugby league experience to date.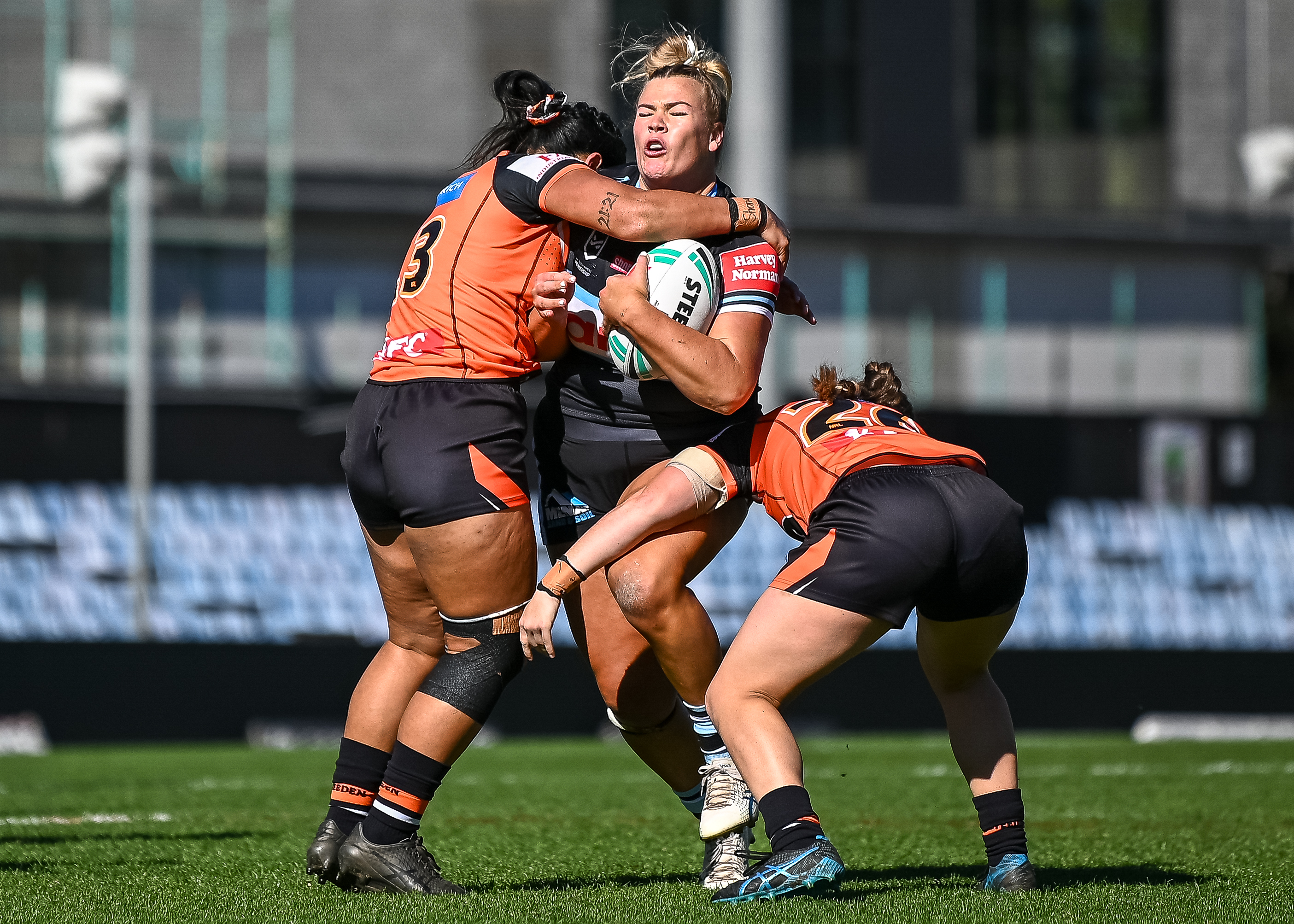 "For our first game there were thousands of little girls there and they were awesome," said Johnston.
"They all wanted a photo and signatures and they were calling me by name.
"The Sharks fans have been crazy, I loved seeing them to clap us off the bus for our first home game."
The Sharks have had a strong start to their first season, beating the Canberra Raiders in Round 1 and then losing to the Wests Tigers in Round 3. Their next game is against the Gold Coast Titans who have won their first two games.
Before you move on, why not give our Facebook page a like here? Or follow our Twitter account to keep up with our work here.Fortunately for the Sharks, after leaving the field in the 46th minute against the Tigers with a calf injury.
"Emma is awesome and just such a professional player," said Johnston.
"I love playing off her and I love playing beside her.
"I look up to her as an older athlete and she brings out the best in me."
Another player that Johnston credits for bringing out the best in her is her friend Tiana Penitani. Johnston has played alongside Penitani for her entire career so it is fitting that the two players ended up at the Sharks together.
"I've been with Tiana since I started in 2020 and she is like a sister to me," said Johnston.
"She has always been there for me, I have always looked up to her and it's a big part of the reason I came to the Sharks, because I knew all these incredible women would be here.
"These women are the best to be around, when you see how they train you want to be like them and keep stepping up to their level."
The inspirational women aren't just on the field though, they are in the coaching box too.
Sims may have been the first women's player signed by the Sharks back in 2016, but unfortunately she retired before the Sharks women's team was introduced.
But Sims is still connected to the club and was head coach of the Harvey Norman Women's Premiership side and an assistant coach to the NRLW side.
"Ru was one of the older women that paved the way for us so it's great to have her still here at the club," said Johnston.
"I couldn't be happier to be coached by Ru and Tony Herman."
Johnston plays in the forwards, just as Sims did so the two women have formed a close connection.
"At the season launch we looked very similar with the way we had styled our hair so people were confusing us from behind," said Johnston.
"We decided to make a running joke that we were sisters and it's stuck.
"Ru has been so helpful with my footy; I feel like we play in a similar way so she's really been able to help my game this year.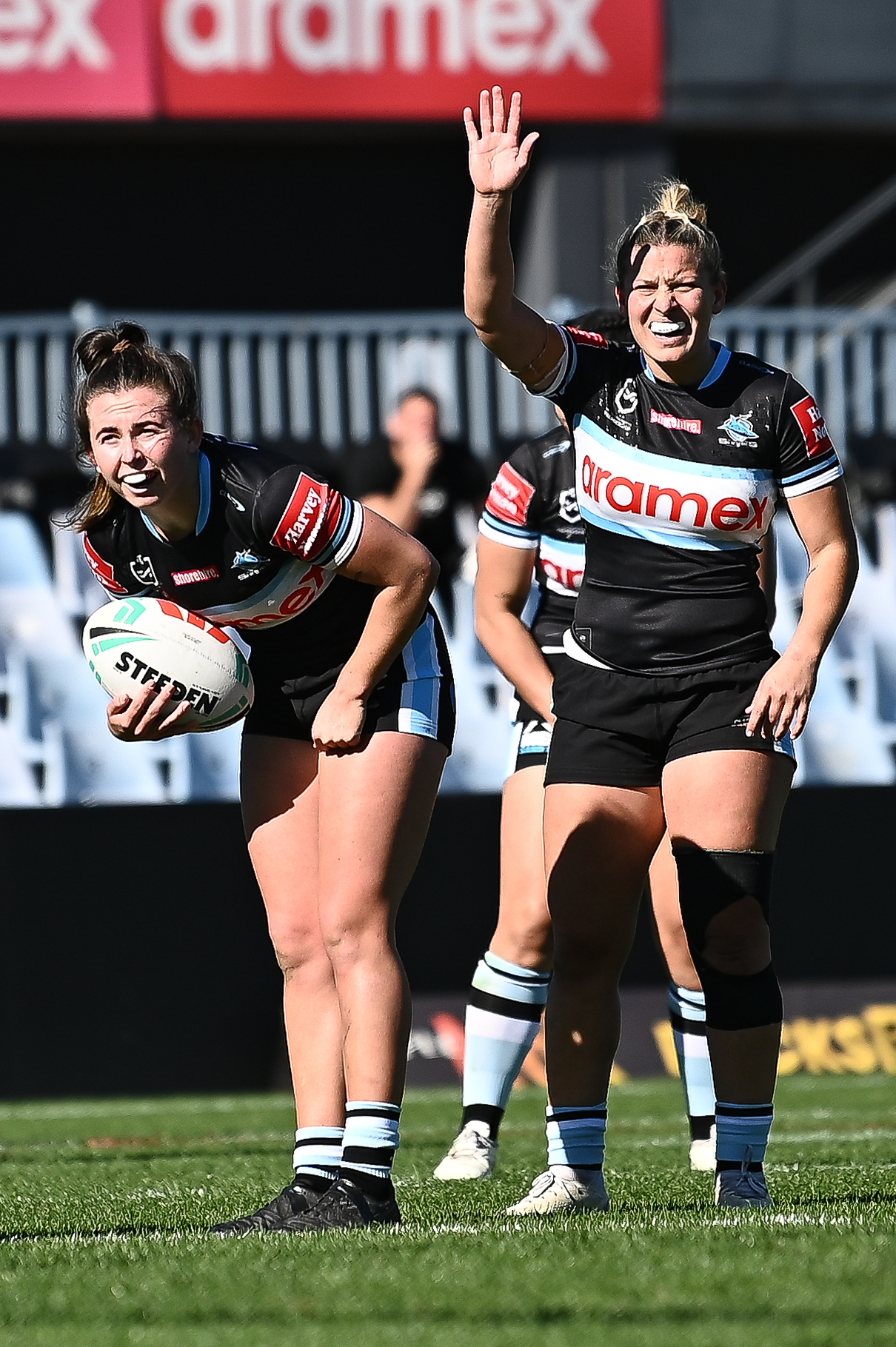 For Johnston, like her teammates the focus is on winning a Premiership, but after being named 18th player for this year's State of Origin jersey, Johnston would like to go one step further next year.
"I want to play well every weekend, keep proving myself and working hard," said Johnston.
"I want to prove to the NSW coaching staff that I can play at that level and perhaps next year I'll get to make my Origin debut."