Round 2 of the National Women's Rugby League Premiership may have just started but already I am declaring the Gold Coast Titans the biggest surprise packet into the competition.
Most people predicted that the Titans would win their first game against new team the North Queensland Cowboys, but the more surprising result was their 17-16 golden point win over the Brisbane Broncos at the Gabba on Thursday night.
Evania Pelite has been a stand out; running for 248 metres and with 15 tackle breaks against the Cowboys and scoring the first try against the Broncos. Shannon Mato has been helping the Titans get on the front foot and win that forward battle, whilst Georgia Hale has been a tackling machine, topping the tackle count against the Broncos.
But it's the next generation of players which have also starred for the Titans including Destiny Sinapati-Mino and Sienna Lofipo, who made her debut against the Cowboys after the 18th player was activated.
"It was such a shock to make my debut," said Lofipo.
"But it was awesome to run out with my teammates, even though I had to get moving quickly because I was just chilling on the sideline for most of the game.
Fortunately for Lofipo her parents, partner and little brother were in the crowd watching, with some very proud grandparents watching from home.
With Tahliah Fuimaono grappling with an ankle injury, it means that 18-year-old Chantay Kiria-Ratu and Lofipo become the youngest halves combination in the NRLW.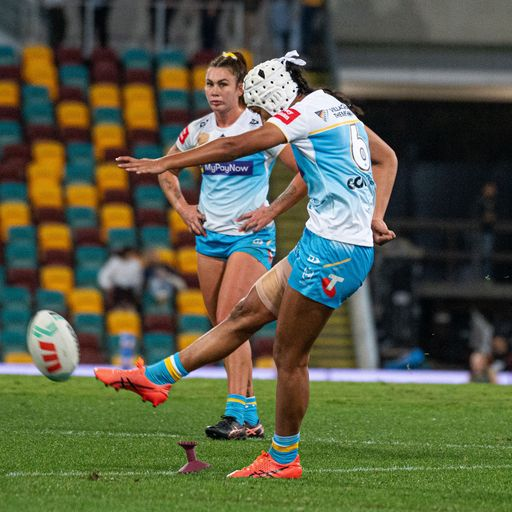 Even though Lofipo may feel a bit starry-eyed playing with and against some of the most experienced players in the game, she certainly didn't show it in her performance on field.
"I've played alongside some of these players in the BMD competition and the first time I went to training, I was shocked to see some of them," said Lofipo.
"But then you get used to it and realise they are a person that plays footy just like you and have the same goals and same mindset.
"As one of the younger players, that's how I see it; I want to play my fame and not let them frighten me, but constantly be trying to live up to and strive to that level."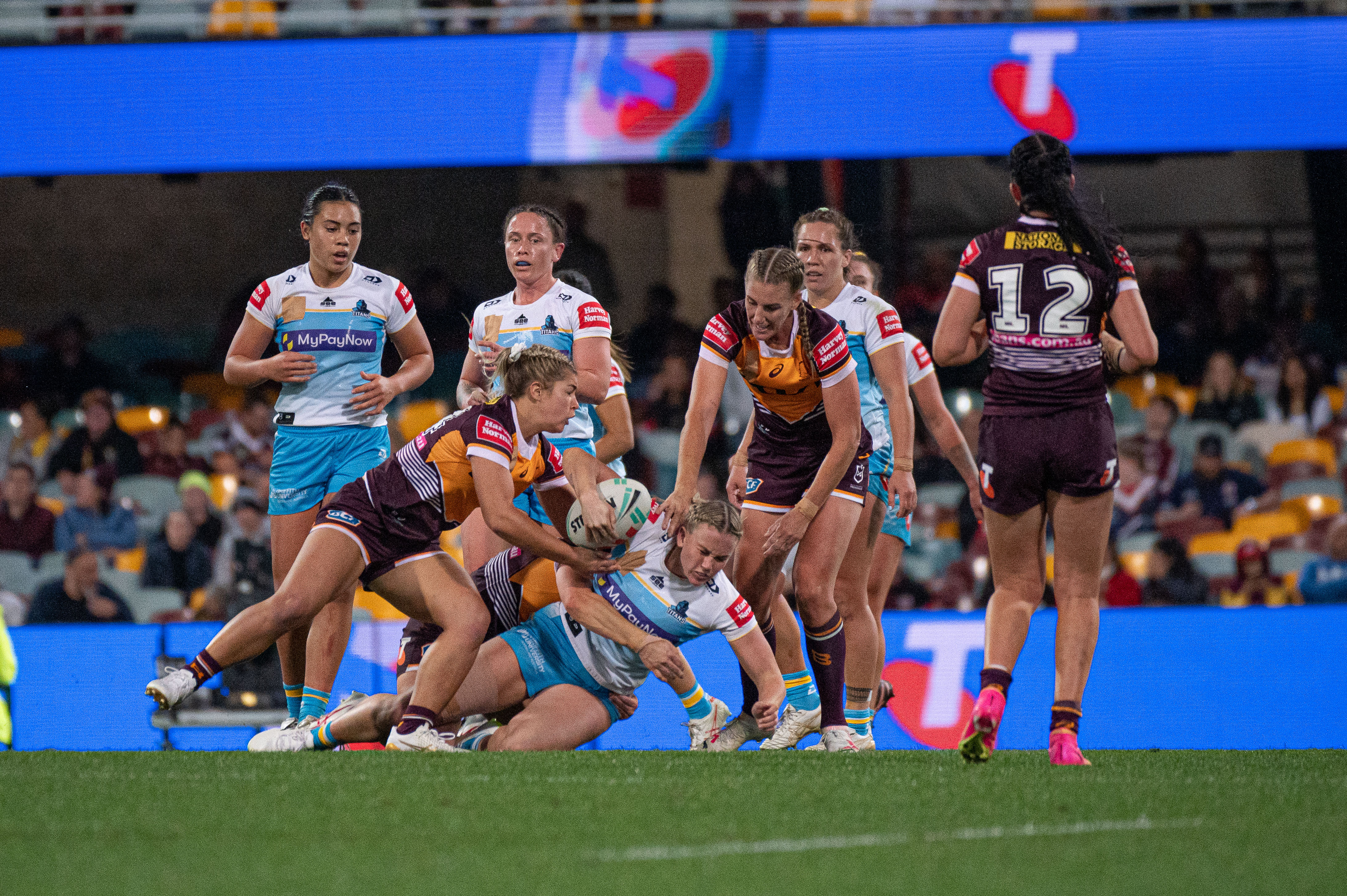 No doubt, in a couple of years, Lofipo will become one of those players the younger women look up to.
Lofipo started playing rugby league when she was 12 in the local area.
"I moved schools so I could be more involved in schoolgirl footy," said Lofipo.
"I made a couple of representative teams and the inaugural Queensland Schoolgirls team and then was picked up by the Titans for under 17s and under 19s, so I came to the club."
Like several other NRLW teams like the Wests Tigers and Cronulla Sharks, the focus has been on developing a full female pathway. For players like Lofipo, that means that they may be young when they make their debut, but it is alongside players they have interacted with at the Titans, or players they have played alongside as part of the pathways.
"It's great to have so many familiar faces around because it has helped me in making the jump up to NRLW," said Lofipo.
"We are so lucky to have the experience in our team and so many players that have played for so long like Steph Hancock, Georgia Hale and Evania Pelite.
"Every single training session they have something new to teach us."
For Lofipo, learning from those older players is not just about skills-based learning. It has also taught her what it means to be a professional athlete and the standards that she needs to aspire to too.
In particular, Lofipo has really benefitted from her relationship with Pelite and also Hancock.
"I've been coached by 'Vani' in the past and I learnt a lot from her that has really helped me understand how to play alongside her," said Lofipo.
"Steph has been a mentor to all of us from the day we arrived at the club."
"She is such an inspiration and someone willing to do those little things that really matter. I still look up to Steph so much."
For the Titans, it's not just about developing those pathways. It's also about ensuring that those pathways have the resources from a people and process perspective to help them succeed.
Former Australian Jillaroos Karyn Murphy is coach of the Titans NRLW team, but her role is much bigger than that. Last year the Titans announced Murphy as the full-time Director of Female Rugby League at the club. This role focusses on developing the women's game all year round, with a particular focus on the Titans catchment.
"Karyn is one of the best coaches I have ever had," said Lofipo.
"Being a halfback like me, she has so much to offer and so much to teach.
"She has a footy brain and if we need anything, Murph always has the answers."