Catch up on the action from Day Four here:
Barbados v Singapore: 55 to 50
Barbados fought hard to score their first win of the tournament against Singapore, with a thrilling five goal win kicking off Day Five of play. The attacking end of Kadeen and Sasha Corbin and Latonia Blackman came through for the Baja Gems, shooting at 93 per cent accuracy, with 49 goal assists.
For Singapore, facing up with the Baja Gems was hard work, and shooting accuracy came back to bite them, making just 80 per cent of their shots, despite having more shots than Barbados.
This was a cleaner match for Singapore, with just nine general play turnovers, and Barbados only managing 10 gains, but those ten were enough to get the job done and score a win in Pool E.
Australia v Malawi: 70 to 46
Malawi became the first side to take a quarter off the Diamonds in their matchup, as the shooting circle of Mwai Kumwenda and Joyce Mvula went head to head with Sarah Klau and Courtney Bruce.
Despite the best efforts of Malawi, who stole the second quarter, it wasn't enough to keep up with Australia, who put the foot down in the second half to run away with a big win.
Sophie Garbin was a gamechanger for the Diamonds, with her holding and aerial ability in the second half making the difference to give the Diamonds an easier path to goal, and a smoother scoring flow, as they piled on the goals to take the big win.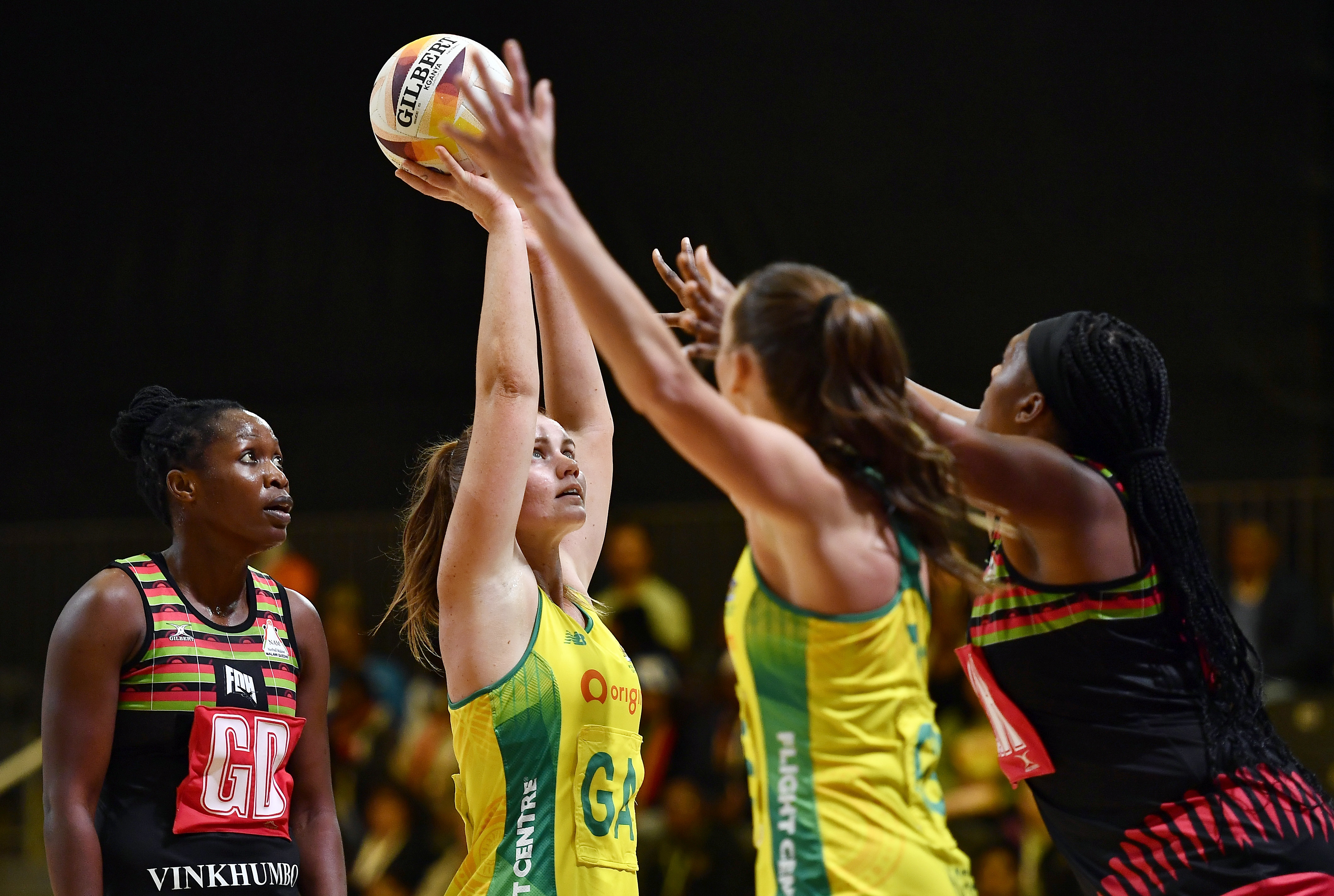 Tonga v Scotland: 55 to 47
Tonga were another side to take advantage of more accurate shooting to get the win, as they managed 91 per cent accuracy to Scotland's 74 per cent. The accuracy proved the difference, as rising coaches Tamsin Greenway and Briony Akle went head to head with their developing sides.
Luana Aukafolau was a standout for Tonga, playing a key role in the middle (23 centre pass receives) and at circle edge (30 feeds, 22 goal assists) to keep the attacking rhythm for Tonga, while Hannah Leighton fought hard against her, forcing four gains while wearing the wing defence bib.
It was the battle of two rising sides who are looking to take the next step, and a player who exemplified that was Uneeq Palavi, who shot 41 goals while playing a key role for Tonga inside the circle, taking them to the win.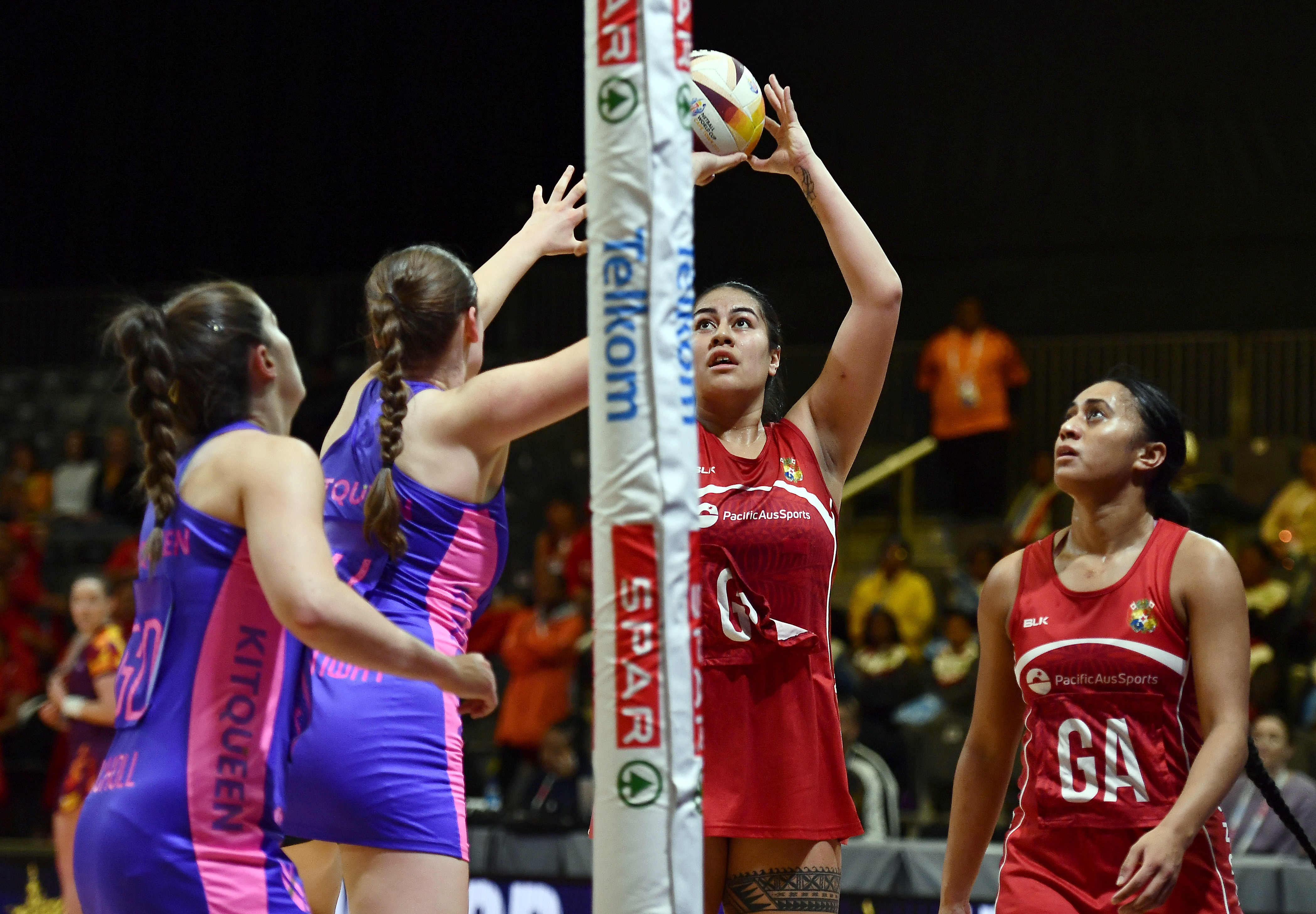 Zimbabwe v Sri Lanka: 71 to 36
Zimbabwe were dominant from the first whistle in this match, as they managed the flow of the game better than the young Sri Lankan side. Progress Mayo was again the star for Zimbabwe, running riot through the middle of the court, racking up 33 goal assists (more than Sri Lanka as a team) and 55 feeds.
Mayo's continued domination has marked her out as one of the stars of the tournament, alongside Nicole Muzanenamo, who played a starring role at goal attack, with 32 goals and 13 assists in her outstanding performance.
It was another tough outing for Sri Lanka, who are playing well, but just don't have the talent to keep up with other teams, even as Chathurangi Jayasooriya managed another five gains in team-best performance.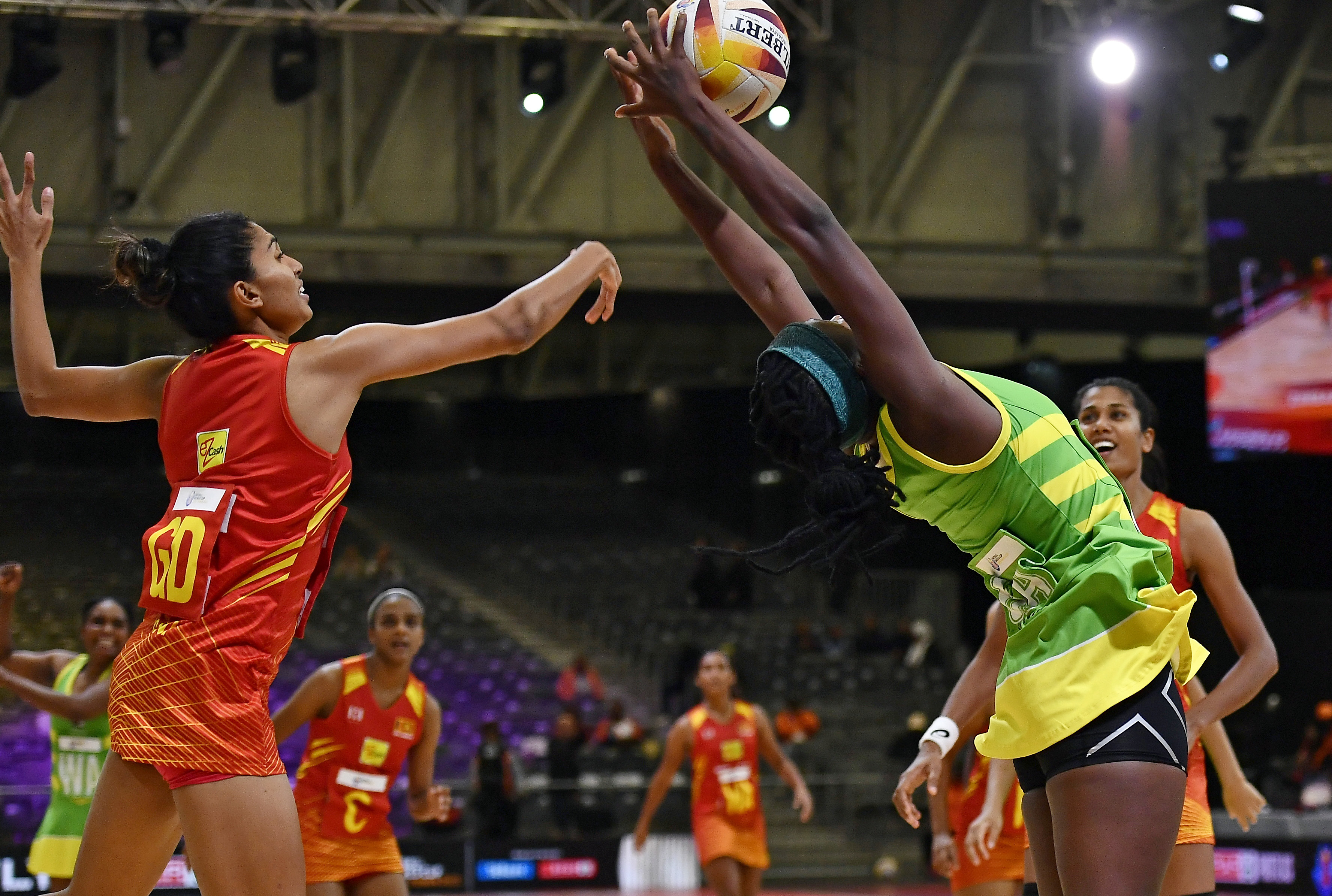 The Roses flexed their muscles with a strong performance over the Gems, as they continued to hit their stride in this tournament. The only concern will be the heavy load again shouldered by Eleanor Cardwell and Helen Housby, who each played 45 minutes and shot 40 goals and 26 goals respectively.
Imogen Allison played a strong game with three gains, in front of Geva Mentor (6 gains) and Layla Guscoth (4 gains) while the Roses suffocated the Fijian attacking circle.
Fiji will take positives out of the performance of Maliana Rusivakula, who shot 25 goals at 83 per cent, but the 44 general play turnovers committed by the team stopped any attacking flow that didn't allow them to keep up with the Roses.
Zimbabwe v Singapore: 68 to 40
Zimbabwe finished off their pool play with a strong performance against Singapore, sealing a spot in the 13/14th place playoff, after another comfortable win in Pool E.
Progress Mayo was again the star of the show, while Nalani Makunde put in a strong performance for Zimbabwe under the post, shooting 47 goals. Elizabeth Mushore put in a towering effort in defence, with eight rebounds to deny Singapore the opportunity of second-chance goals to keep in touch during the match.
Jamie Lim had four gains for Singapore, while Amandeep Chahal had 24 goals in a fighting effort, but it wasn't enough to steal the victory.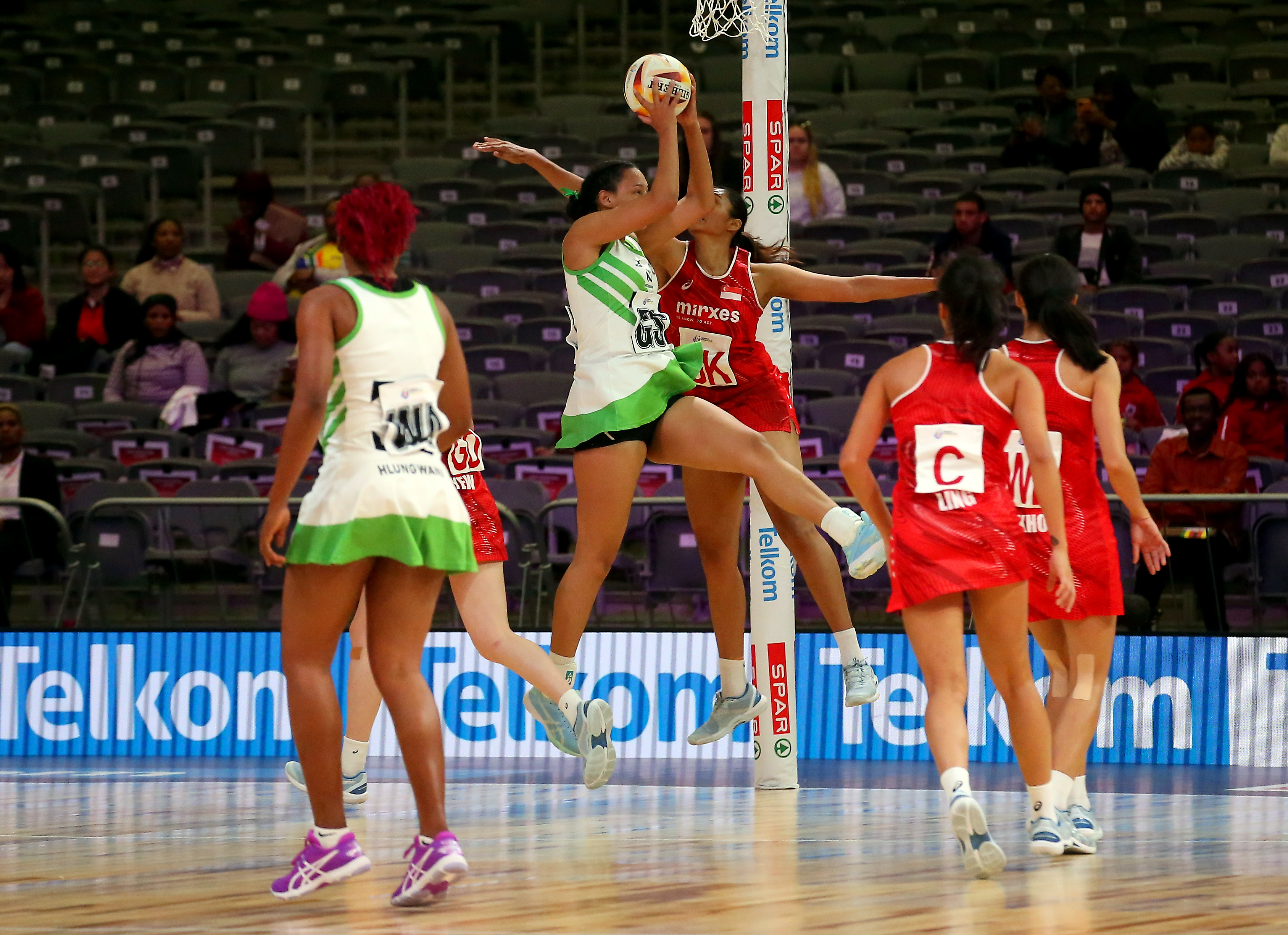 Wales continued to fight hard, but just didn't have the talent to stand up against Uganda. Georgia Rowe scored 53 goals for Wales, but 19 general play turnovers let Wales down.
Uganda was in a strong enough position to put it into cruise control in the fourth quarter, as Mary Cholhok and Shaffie Nalwanja took a break for the last 15 minutes in a bid to freshen up for the final few matches of the tournament.
Uganda is facing a tougher finish to the tournament, after being forced to make two injury replacements, with both Christine Namulumba and Norah Lancuse injured and unable to finish the tournament. More load will fall on their stars, so it was a positive to be able to rest some of those players for the final 15 minutes.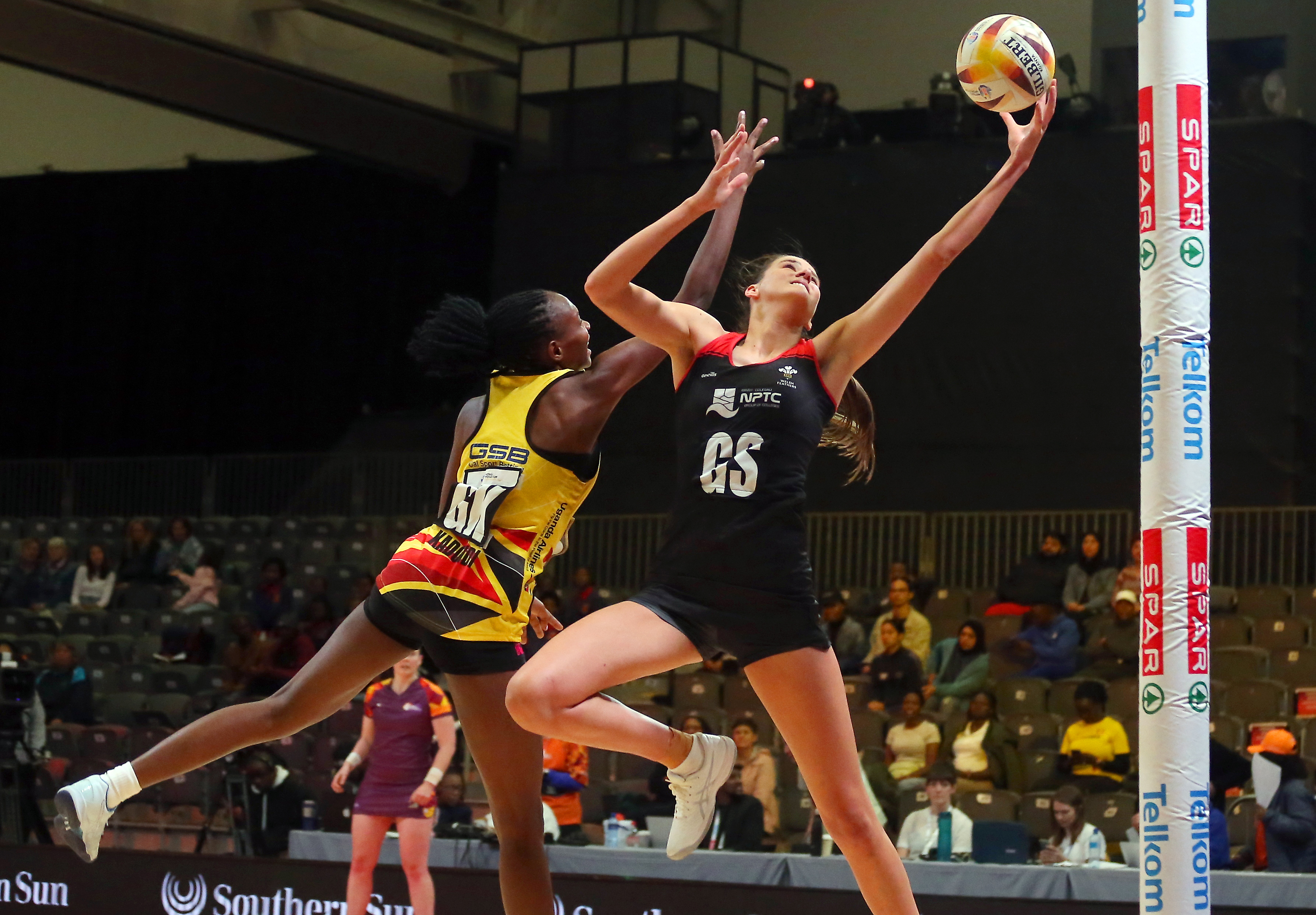 Jamaica v Trinidad & Tobago: 89 to 26
Jamaica put in a dominant performance, despite giving their key players a long rest in the matchup against the Calypso Girls. Jhaniele Fowler only played 15 minutes, while Shanice Beckford, Latanya Wilson, Shamera Sterling and Jodi-Ann Ward only played a half of netball.
Despite resting those key stars, the Sunshine Girls didn't struggle, piling on the pain as they forced 22 gains and eight rebounds, in a commanding performance. It sets the scene for a gripping final day of pool play, as the Sunshine Girls face the Silver Ferns.
For the Calypso Girls, it continues a tough tournament, ravaged by injury and politics, and they have not shown their full potential at the tournament. Jameela McCarthy fought hard, with four gains at the back, but it was a valiant effort in vain in this case.
South Africa v New Zealand: 48 all
The thriller of the tournament so far, as the Proteas forced a draw with the Silver Ferns. It may not be enough to see them qualify for the semi-finals, but it is a mark of the coaching of Norma Plummer and the play of the Proteas that they were able to force this result, despite missing Lenize Potgieter.
Phumza Maweni was immense in goal keeper, with eight gains, including one in the final phase of play to create the opportunity for the equalising goal. Maweni was well supported by Karla Pretorius (three gains) as the Proteas thwarted the Silver Ferns' attack.
The Silver Ferns will rue the opportunity to take the win, as they were unable to fully capitalise on the seven turnovers forced by Karin Burger and the three gains by Jane Watson. They are still in the box seat for a semi final berth, but will be forced to be at their best against Jamaica to cement their place.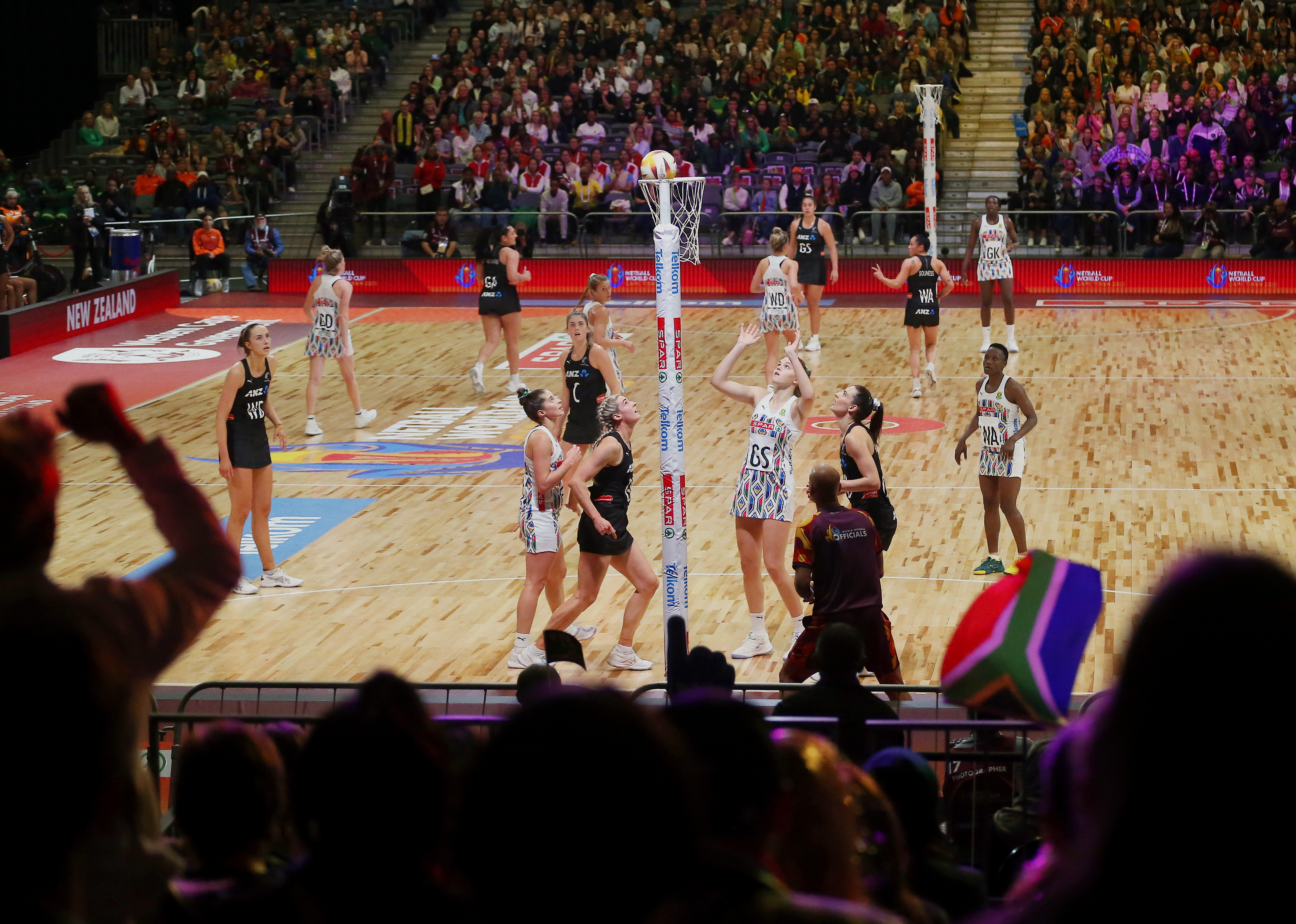 Sri Lanka v Barbados: 60 to 56
Sri Lanka won a thriller over Barbados to close out their group play in style. Thishala Algama (47 goals) and Chathurangi Jayasooriya (four gains) were the stars of the show, but it was a full-team performance from Sri Lanka to get the win.
Three players registered double digits for feeds and goal assists, while five players were on court for the full match, as Sri Lanka focussed in to get the job done.
On the other side, it was a tough finish for Barbados who have struggled across the tournament, but shooting accuracy was the Achilles heel (84 per cent compared to 96 per cent by Sri Lanka) as they generated plenty of opportunities to score, but couldn't convert enough to get the win.