Catch up on the action from Day Three here:
Australia v Scotland: 76 to 37
Australia faced its sternest test of the tournament so far, as the Scottish Thistles came to play to kick off Pool F. As has been common in the World Cup so far, it was the Australian defenders who stood out - with Sarah Klau and Courtney Bruce each collecting six gains, while Jamie-Lee Price had five.
The Australian depth was also evident in the midcourt, with five different players recording double-figures for feeds and goal assists. In the end, the Australian firepower was too much for Scotland to handle as the Diamonds rolled to a convincing win.
The Thistles will have plenty of positives to take out of the match, with Hannah Leighton recording ten feeds and three gains in a strong midcourt performance, despite only playing for three quarters.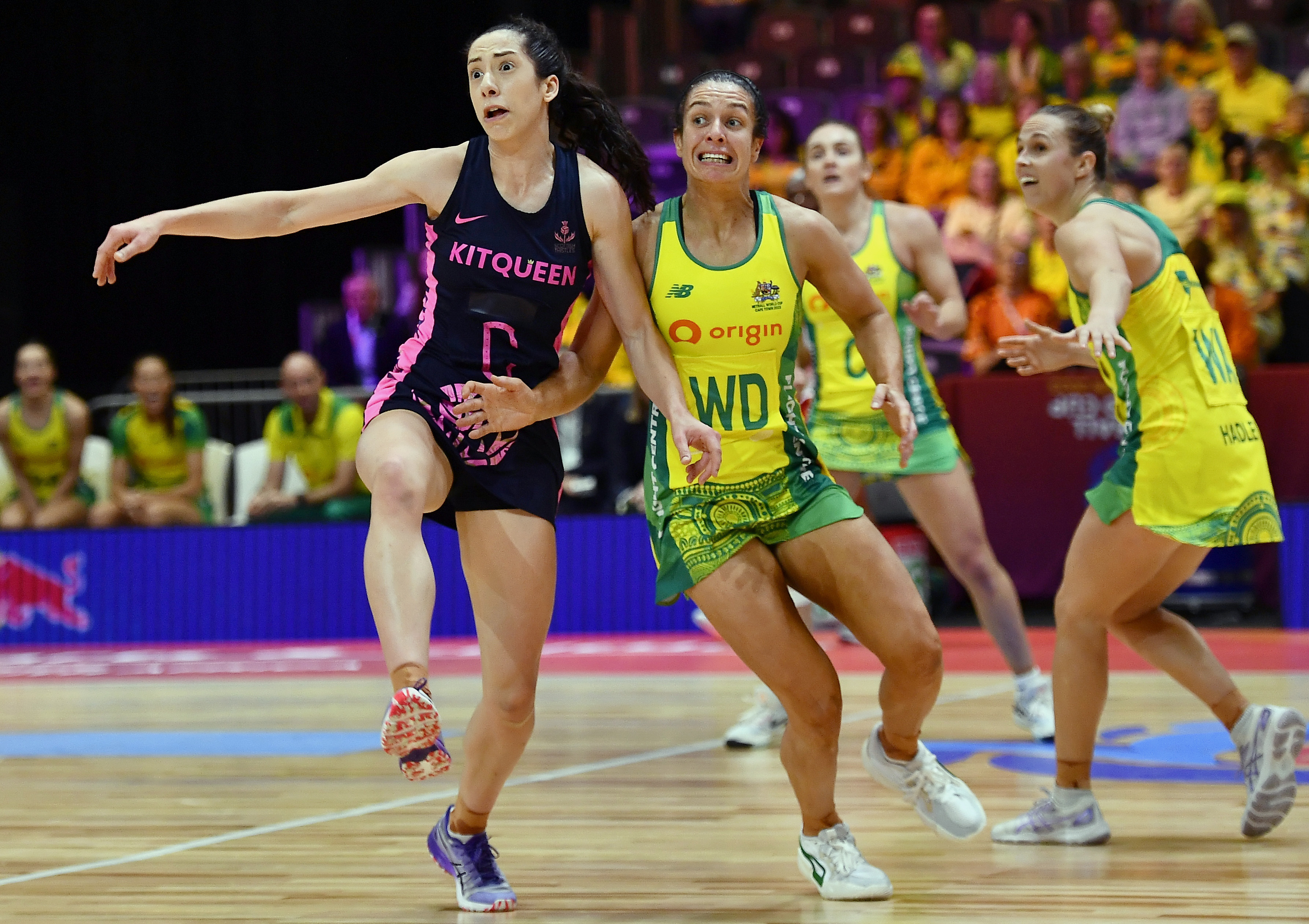 Zimbabwe v Barbados: 45 to 62
Group A and B's lowest-ranked teams merged to form the new Pool E - which hosts the bottom teams of each group. This match would serve as one team's first win, now playing for a bump in their respective world rankings.
Zimbabwe was missing in the entire first half, only scoring 16 to the Bajan Gems' 35. It wasn't shooting consistency that let them down (half-time average of 95%), it was the fact the ball was never even getting to their shooters. In the seven-goal second quarter, The Gems only scored off 31% of their centre pass, a 27% decrease from their 58% first quarter.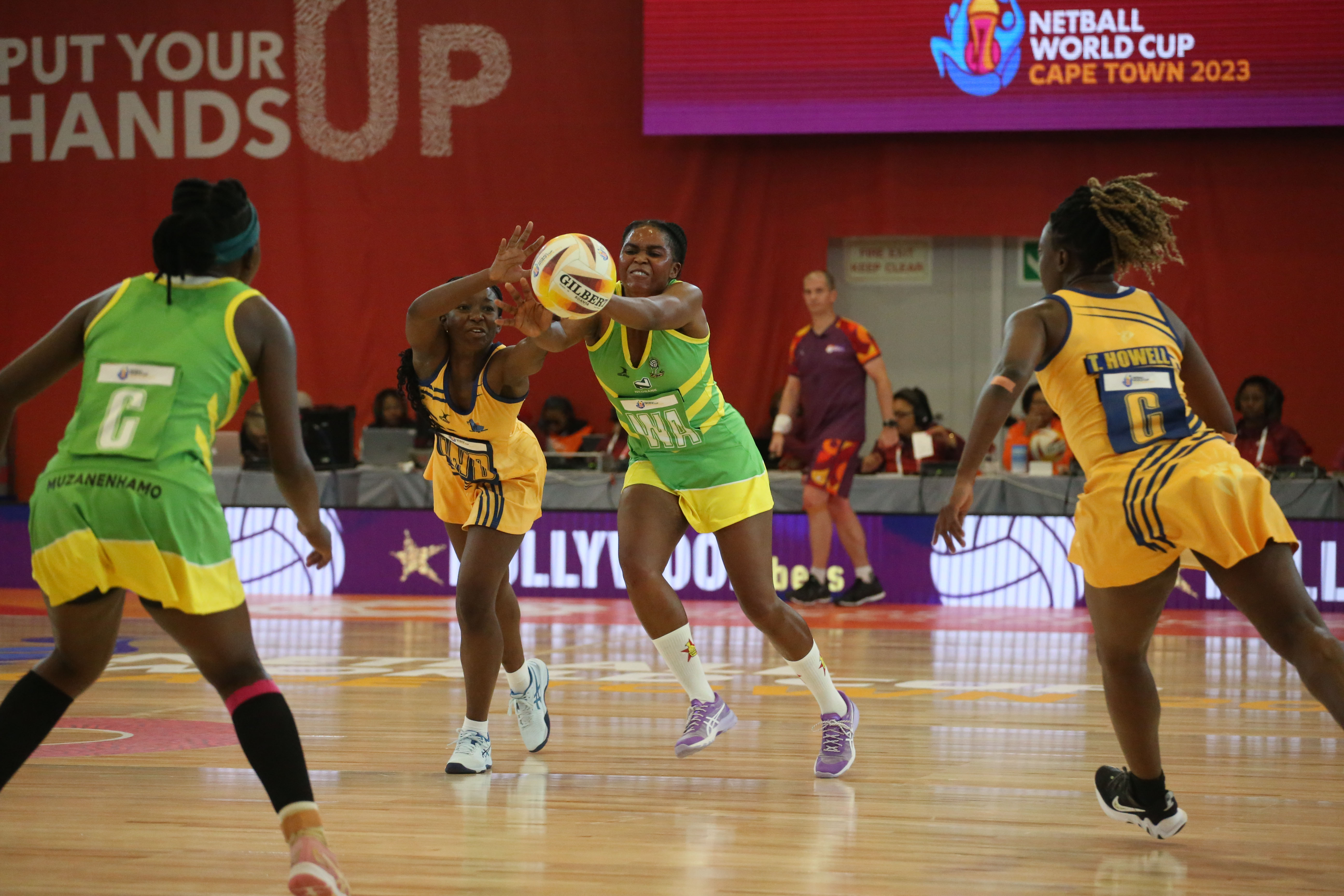 To their credit, their second half was significantly better, with the combination of Progress Moyo and Beaula Hlungwani working at wing attack and centre. As the game went on, Barbados appeared to slow slightly, but the win was never out of their hands despite losing the final quarter.
Malawi again flexed their muscles in a matchup against Fiji, overcoming a hard fight from the Pearls to win strongly. It was a fast start for Malawi, who had a ten goal lead at quarter time, before the Fijians fought back, losing the final three quarters by just four goals, and the second half by just one.
Malawi are done testing combinations, relying on the shooting contributions of Joyce Mvula (38 goals) and Mwai Kumwenda (24 goals), and only putting eight players out on court. It is early in the tournament to be shortening the rotation, but Malawi are looking to improve their world ranking with a big performance at the tournament.
In a positive sign for the Pearls, Fiji didn't miss a shot in the second half, as they fought back strongly against Malawi, but it wasn't enough to overcome the strong start.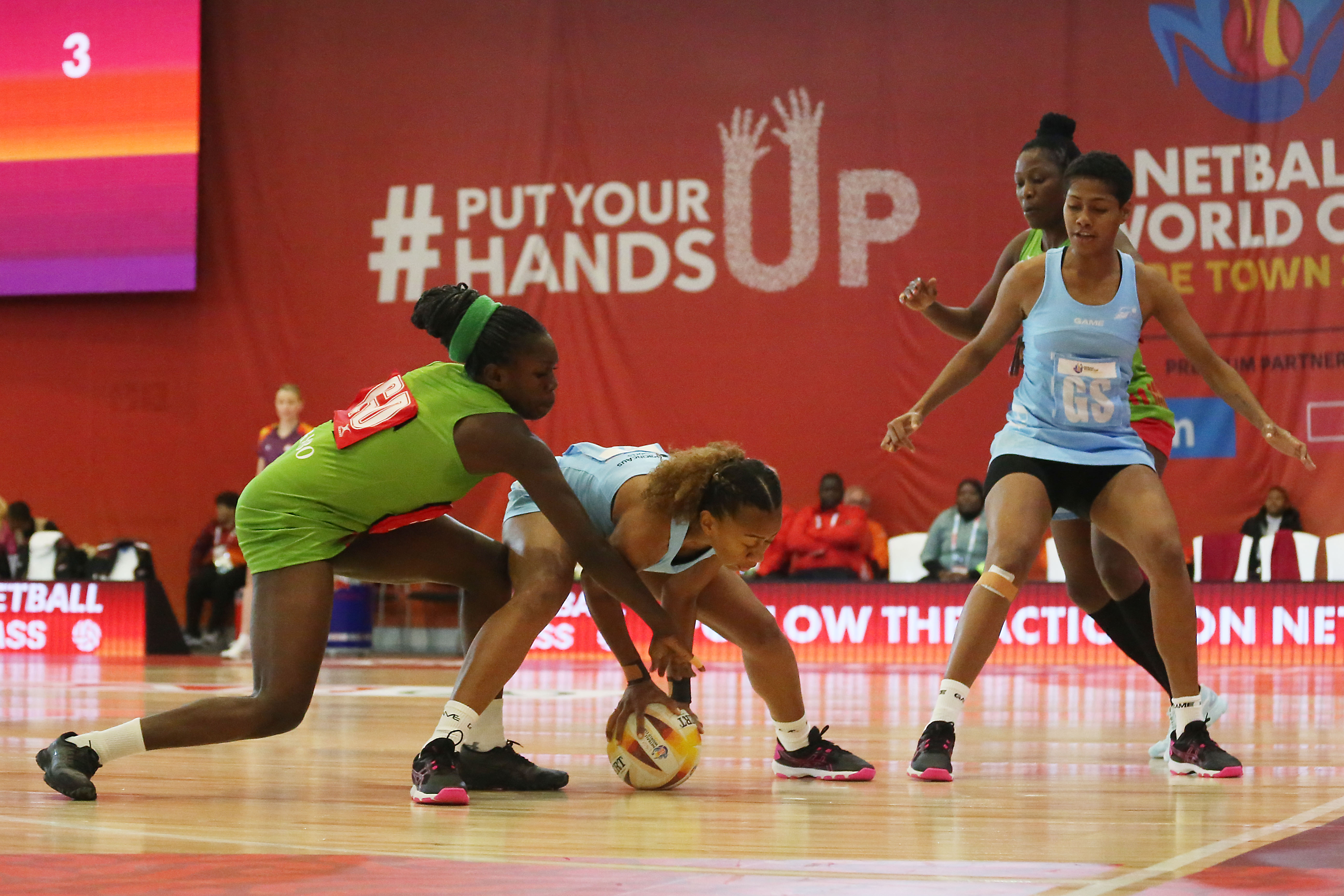 Wales v New Zealand: 34 to 83
Just an hour before game-time, the Silver Ferns announced that shooter Grace Nweke would not be taking the court for the remainder of the World Cup, becoming the first time to use their reserve players. Tiana Metuarau comes into the fold for Nweke, but is traditionally a goal attack, making Maia Wilson and Te Paea Selby-Rickit compete for the preferred starting goal shooter.
The game started with what will likely be the new starting seven, with Ameliaranne Ekenasio in goal attack and Maia Wilson at goal shooter. Coach Noeline Taurua remains optimistic despite Nweke's absence, stating that this injury has simply just fast-tracked the team's consolidation period.
Post-match, Feathers' captain Nia Jones was impressed with her team's effort, particularly their "Primark zone" against the Fern's "designer zone", as the team usually opts for a man-on-man style of defence. Southern Steel's assistant coach Reinga Bloxham's valuable insight on the Kiwi style of play was invaluable, something Jones credited post-match.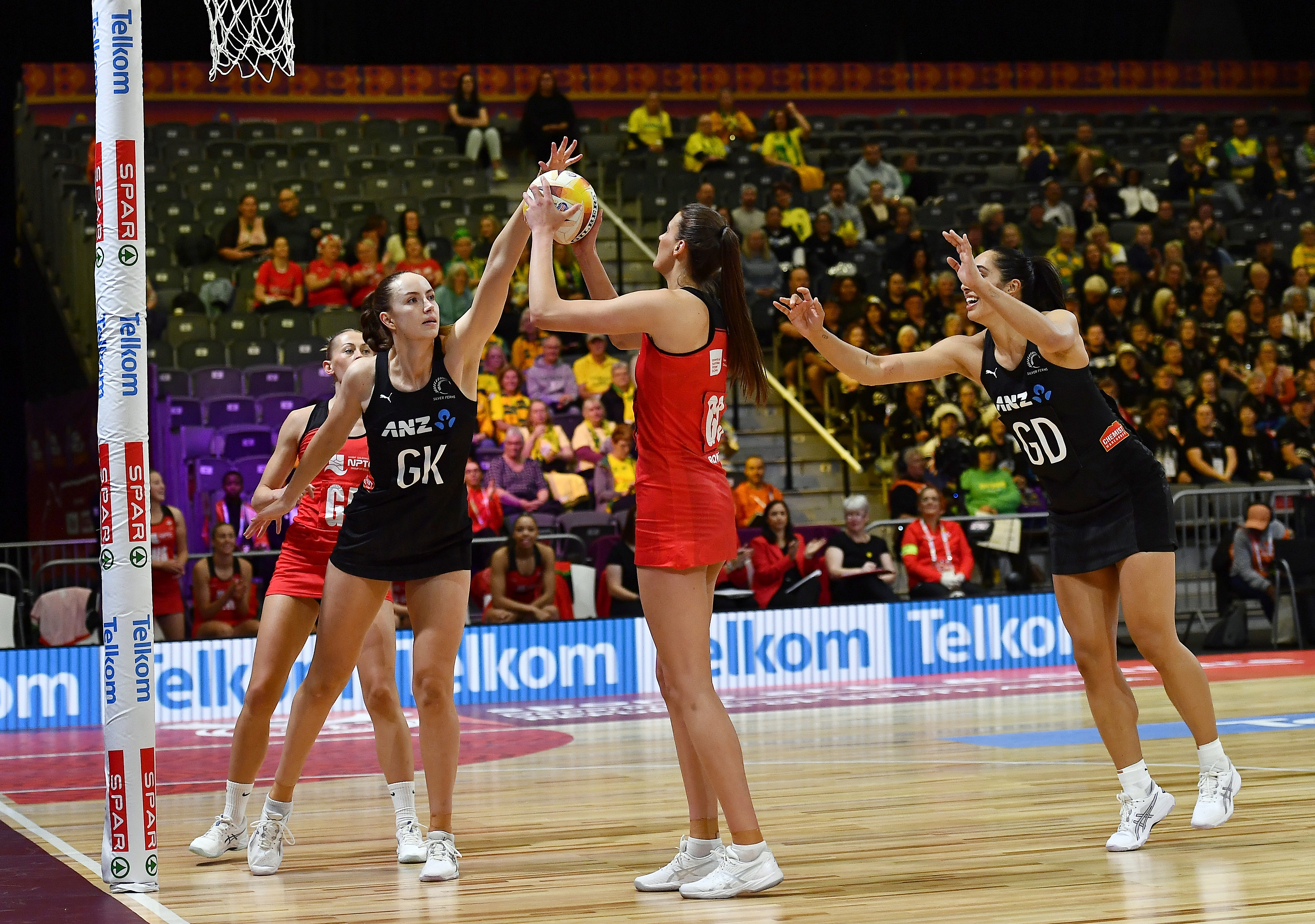 Jamaica v Uganda: 61 to 49
The Sunshine Girls faced their toughest test against the She-Cranes thus far, and came through with a clear enough win, but hardly the thumping performance of their first few matches.
It was a mixed result for Jamaica, who only missed one shot the entire match, but also conceded 82 penalties and 18 turnovers. The She-Cranes didn't have the firepower to punish the Sunshine Girls, but they will need to be better against the Silver Ferns later in the week to contend for the gold medal.
There were plenty of positives for the She-Cranes, as Mary Cholhok's star continues to rise in the shooting circle. It was also an outstanding performance by Shaffie Nalwanja, who recorded four gains in a big contribution in defence, and 23 involvements on first or second phase, as she helped set up the attack as well.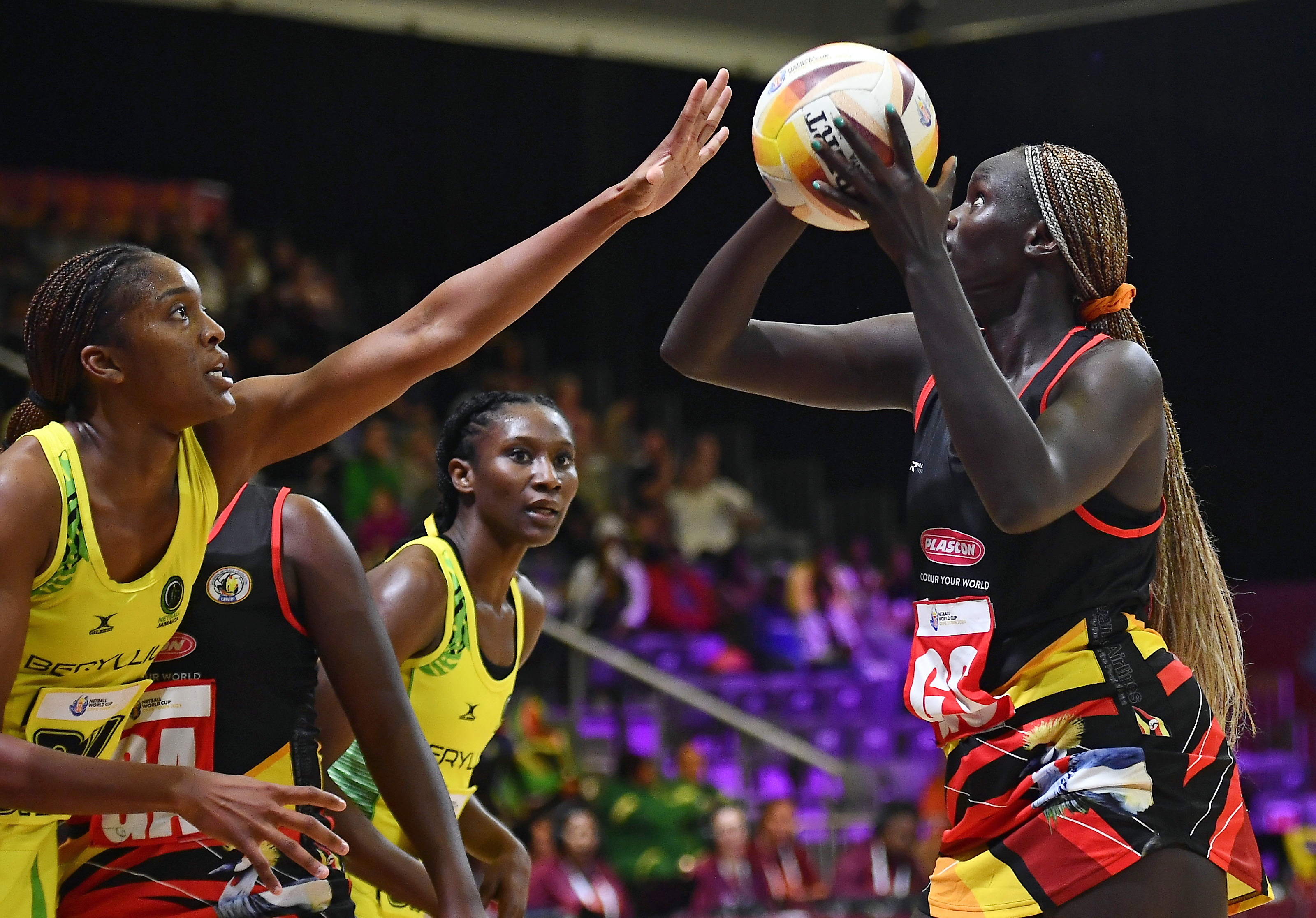 Sri Lanka v Singapore: 52 to 55
Singapore recorded their first win of the tournament in the other matchup in Pool E, winning a thriller over Sri Lanka. Angelina and Jamie Lim were the stars for Singapore, recording a whopping 42 feeds and four gains respectively, as Singapore did just enough in a hard-fought second half.
The win gives Singapore a boost in its push to rise up the world rankings, despite the best efforts of Thisala Algama (28 goals) and Chathurangi Jayasooriya (six gains).
The result leaves Sri Lanka with two more opportunities to snag their first win of the tournament in the pool stages, before relying on a win in the ranking matches.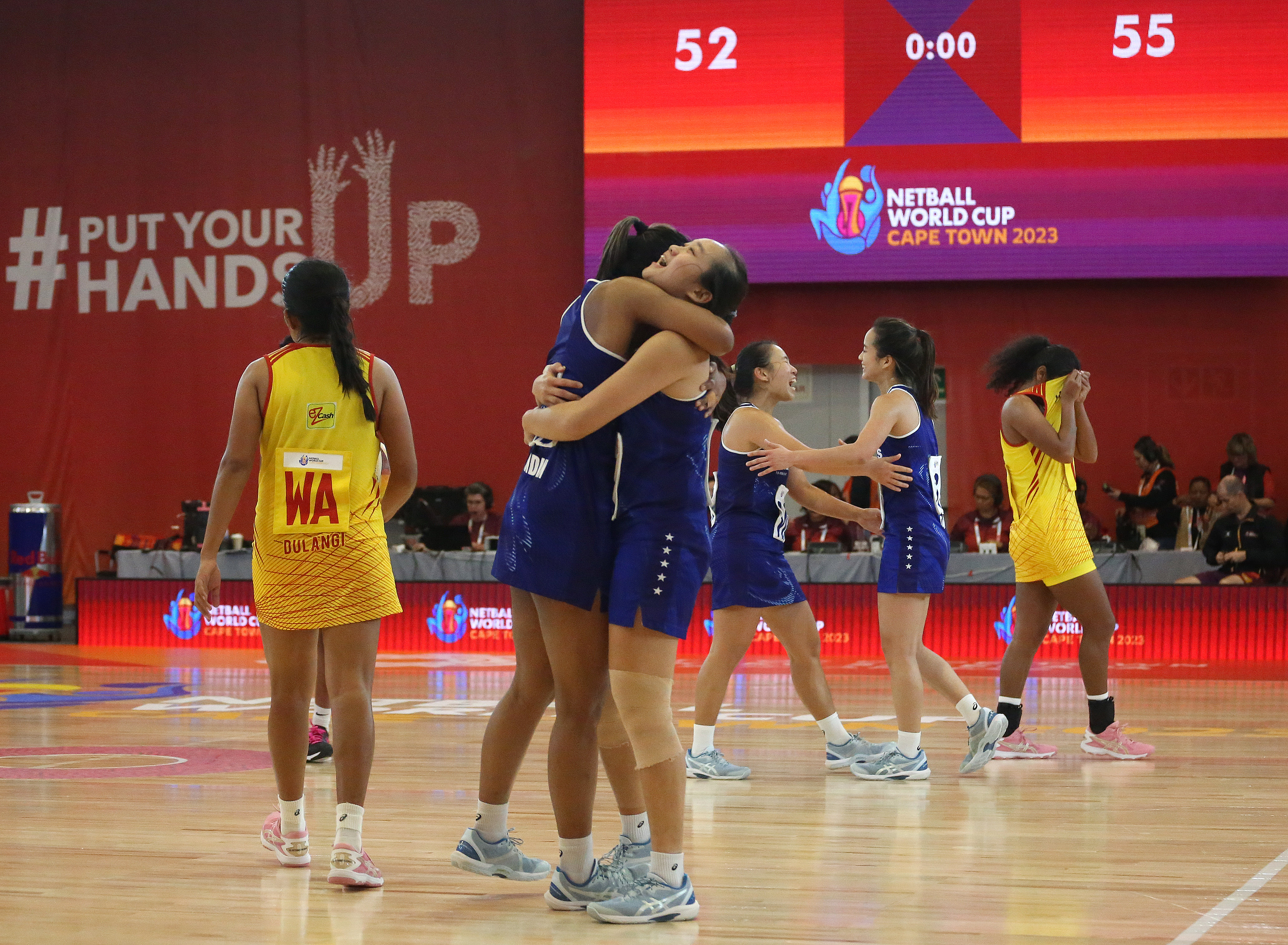 South Africa v Trinidad & Tobago: 69 to 28
After a decent start, Trinidad and Tobago faltered in the second quarter, only making 3 goals to the Protea's 15, which was both team's lowest quarters of the game. For the remaining half, the Calypso Girls were unable to hit double digits, despite a range of substitutions.
Unfortunately for the home country, they have also been struck down by injury, with Lenize Potgieter ruled out from the rest of the tournament. Owethu Ngubane comes into the 12 in her place, but may only get limited court time, with only seven minutes recorded in this match.
Both teams have a rest day before gearing up to keep their campaign alive. South Africa will face one of their toughest opponents yet, defending champions Silver Ferns. Trinidad & Tobago will go up against one of their closest ranked opponents, Wales, who currently sit two teams higher on the ladder, at ninth.
Tonga v England: 46 to 72
England have continued their hot streak with another comfortable win against Tonga Tala. With Tongan drawing style influences from both Australia and New Zealand, they act as a good practice for the teams England will face later in the tournament.
Former Swifts' teammates Helen Housby and Kelea Iongi faced off in the goal circle, both switching positions at two-quarter time, before Iongi followed Housby off the court in the final minutes of quarter two. Although Iongi had a penalty to gains rate of 4:1, she did not gain much ball whilst Housby shot 29 of 33 goals.
A toss-up in the first quarter gave for a bit of extra drama, with wing defence Laura Malcolm and wing attack Salote Taufa both breaking early. Although historically rare, the last time we saw a toss-up was during the Cape Town Quad Series earlier in the year.