The Australian Diamonds beat the history-making Roses 61-45 in the final match of the 2023 Netball World Cup in Cape Town.
The Australian Diamonds and English Roses matched up once again in the 2023 World Cup Cup, and if it was to be anything like their last game, it was going to be a tight one.
Australia kicked things off early to get a slight buffer, sitting at 100% for their centre pass-to-goal rate and getting two goals from turnovers in the first nine minutes. After coming in at goal defence Fran Williams began to shake things up in the Diamonds' shooting end.
Come quarter time, and things were drawn, with the Roses leading for gains, intercepts and goal percentage. The Diamonds were not far behind, however, only missing one goal, with centre pass to goal rate of 62% to the Roses' 77%.
With no substitutions from either team for quarter two, it wasn't until halfway through the quarter that Sophie Garbin took to the court. At this stage, the Diamonds were up by two but appeared to want to change things up on the English defence.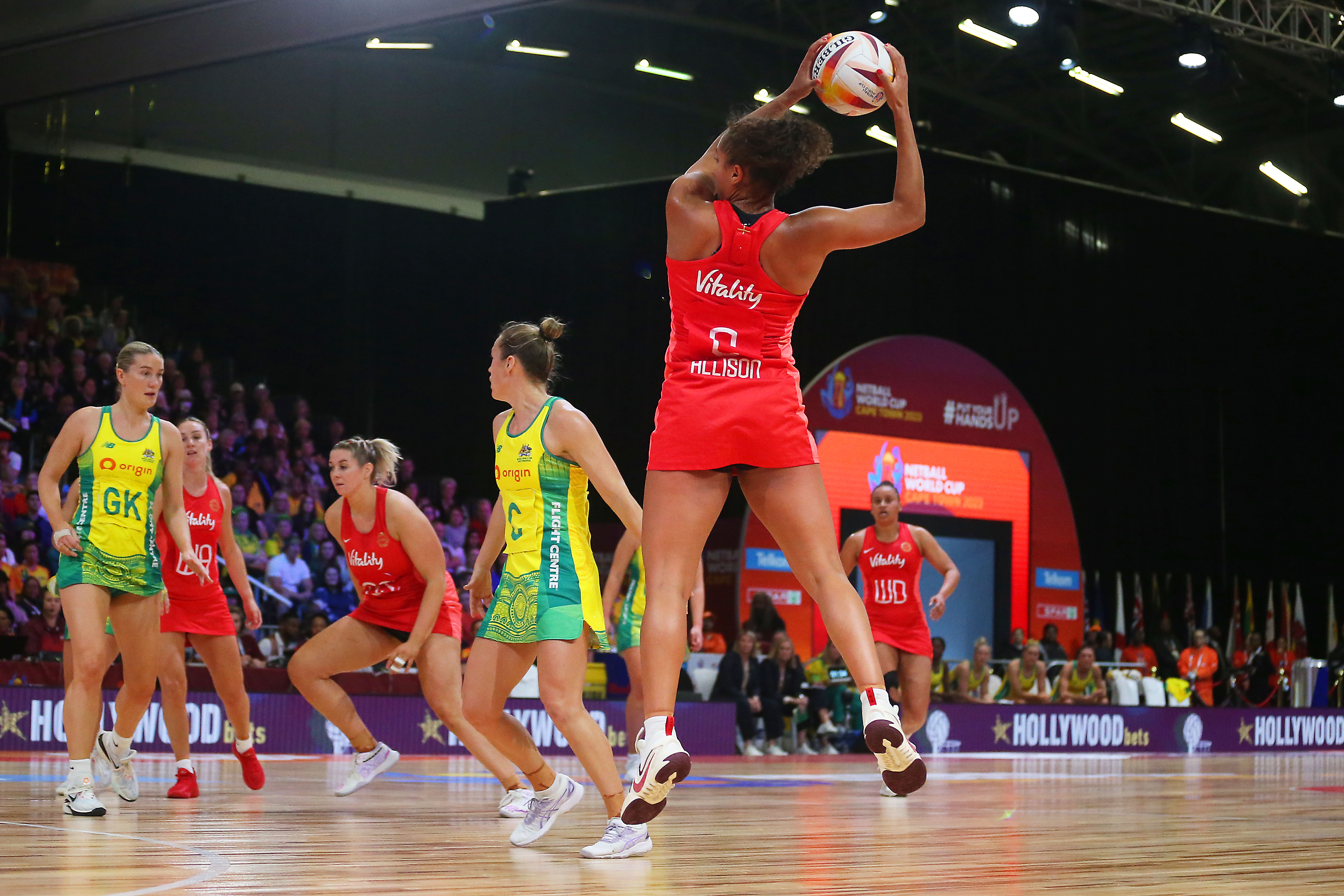 Imogen Allison seemed to be everywhere, hunting for the ball and going up against all three Australian midcourters. Interestingly, she was taken off in place of Jade Clarke, whilst Australia brought on Kiera Austin.
At the other end of the court, Jo Weston was having quite the game, with two gains and an intercept in the second 15 minutes. Courtney Bruce was also getting into it, with a gain and an intercept to her name.
Come halftime, and the Diamonds had a five-point lead. Although they had one less gain to the Roses, their gain-to-goal rate was 100%. With a penalty-to-gain ratio of 10:1 vs. the Roses' 7.2:1, playing cleaner would allow them to truly optimise their gained ball.
Coach Jess Thirlby was reasonably happy with her team's first half, saying:
"I think, whilst we managed to stay with them for that first half, I think there were still signs that we were a little bit hesitant, not quite fluid in our possession game and such is the quality of our defensive unit, we became increasingly dependent upon trying to find ball."
"And I think both things kind of compounded each other. We gave the ball away a little bit too much. Something that you guys know we've worked on through the opening five games and thought we got to a really great place which served us well, to even get to the starting line-up of our first final."
Five positional changes were made for the Roses at halftime, including their World Cup classic swap between Helen Houbsy and Eleanor Cardwell. Youngster Funmi Fadoju entered the game at goal keeper, but was quickly replaced by Geva Mentor.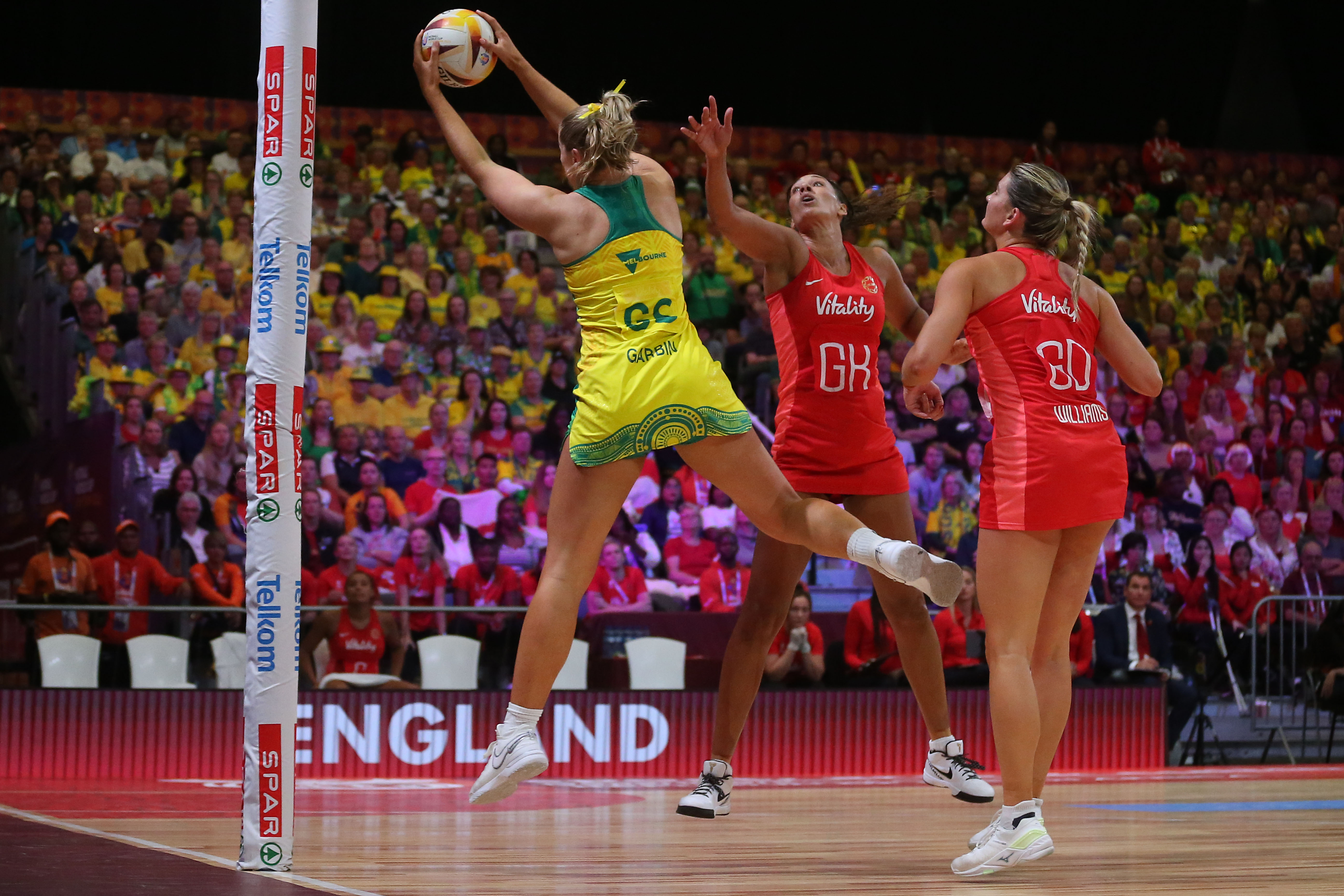 Sarah Klau was brought on and immediately made an impact with a gain. Although she ultimately spent just 17 minutes on court, her presence certainly made an impact on the Diamonds' stat sheet.
Australia was playing safe and consistent, stopping the Roses from having any chance at turnover some ball. In defence their pressure was also causing some cracks in the Roses' line-up, forcing risky passes and held ball. Coach Jess Thirlby responded by injecting dual-national Chelsea Pitman in at wing attack.
A ten-goal lead was going the way of the Diamonds, after a 19-13 quarter. Time was running out for the Roses', who needed a major final quarter to get the win.
Coach Stacey Marinkovich shared what she told her players at three-quarter time:
"Pretty much I said to them, 'We've been in this situation before'. We were up to England in the last game and we were not going to get overrun."
"We pride ourselves on our fitness, our capability and our depth and, you had to run as hard as you could for as long as you could, executing skill and then if you had to tag out, then we tagged out. There was no holding back in that last part."
And they didn't hold back, with the Diamonds continuing to chip away, increasing their margin at the minutes ticked down. A 15-9 quarter sealed the deal, winning by 16.
Post-match, Helen Housby discussed the toll the tournament had taken on the team:
"The Diamonds deserved it, they were the better team, they showed up. I think it showed their depth, they had some fresh legs they could bring on and it not have an impact on them. We were probably a bit spent to be honest. But I'm just so proud. Getting a silver medal is incredible."
Despite the loss, it is still a historic moment for the Roses, who have achieved their best result in the NWC thus far. For the Diamonds, they now hold gold in the three major tournaments -- the Quad Series, Commonwealth Games and the World Cup.
Kiera Austin was awarded player of the match, shooting 15/17 (88%) and 17 goal assists during her 35 minutes of play.
Additionally, Courtney Bruce was named defender of the series, and Helen Housby as both shooter and player of the series. The Silver Ferns' Kate Heffernan was awarded midcourter of the series.
Bronze Medal: Jamaica (52) defeat New Zealand (45)
Before the gold medal match kicked off, New Zealand and Jamaica went head-to-head for the bronze. This was the second time the pair had come up against each other in the past three days, with Jamaica winning 59-48. This win itself is historic, being the first time Jamaica has beaten New Zealand in the World Cup.
Although Kelly Jury started at wing defence in the first game against Jamaica, this game saw her back in her 'natural position' of goal keeper. This tournament has frequently seen Jury moved into wing defence, an experiment by Coach Taurua that hasn't yielded the results they were hoping.
When asked about this changed approach post-match, Coach Noeline Taurua said:
"We were turning over a lot of ball, and Kelly was on the back and really contesting [...] So I thought they were actually not too bad. I also thought the work that was done on the outside by Maddy, who was fresh legs, and also Kate going back in wing defence, I think also helped the inside circle.
The Silver Ferns lost their starting wing attack almost immediately into the first quarter, with Gina Crampton landing on her ankle after a collision with the Jamaican midcourt. Following this tournament, the Ferns' vice-captain is set to take a sabbatical, and at 31 years of age, may call time on her international career before the next World Cup.
Another player who most likely won't be at the next World Cup is Jamaica's star shooter Jhaniele Fowler. The bronze medal match marks her 101st cap for the Sunshine Girls. As always, she was vital for the team, shooting 43 of their 45 goals.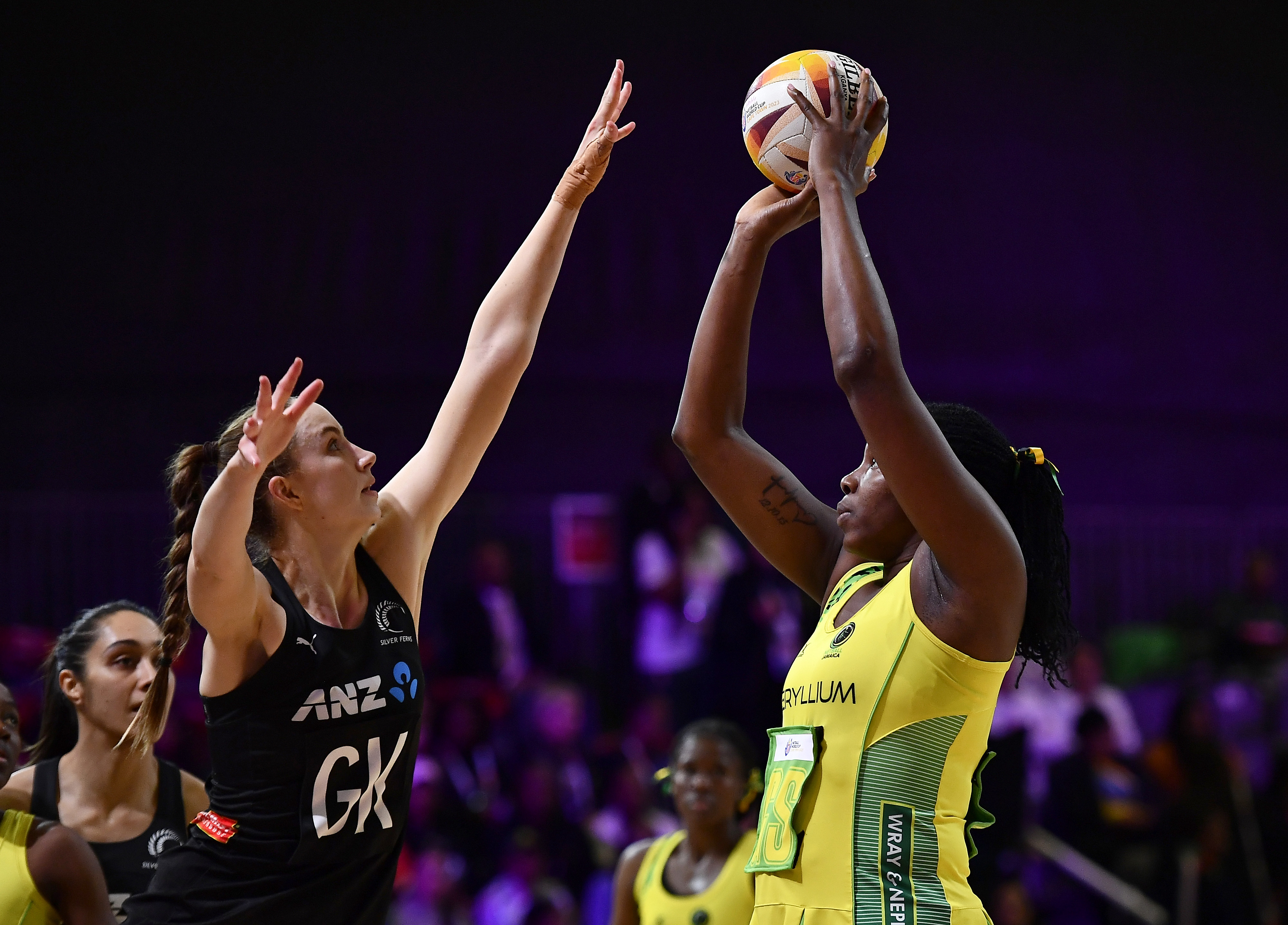 Leading by three at the end of the first quarter, there were no substitutions for the Sunshine Girls. The Ferns moved Maia Wilson from goal shooter, opting for their third shooter Te Paea Selby-Rickit, who was moved into a shooter focus after Grace Nweke's departure from the tournament.
Later in the quarter, replacement player Tiana Metuarau joined the game at goal attack, replacing the slightly sloppy Ameliaranne Ekenasio (3 turnovers). Things got immediately heated in the goal circle, with the young player getting physical with both Shamera Sterling and Jodi-Ann Ward.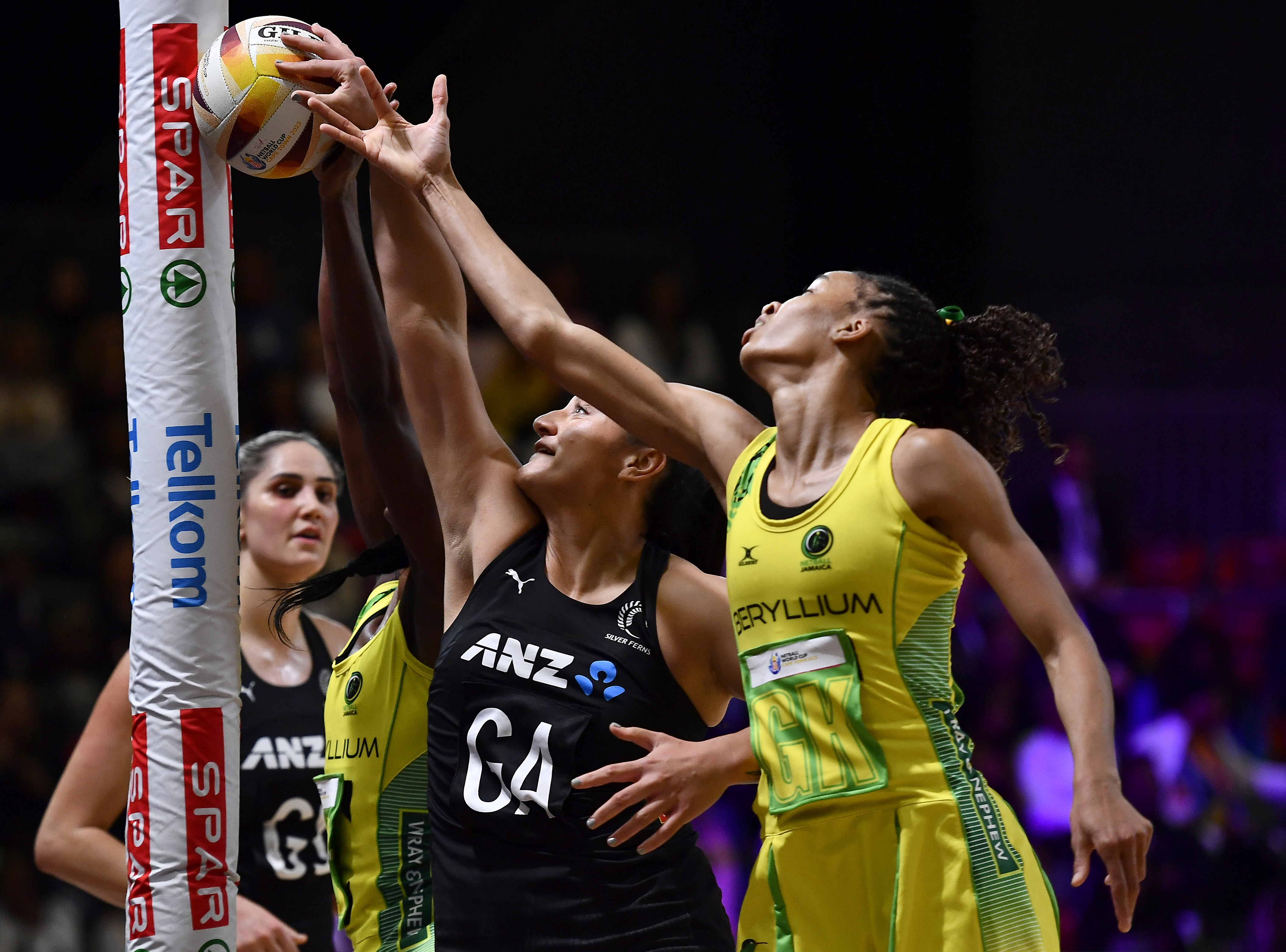 After a tied second quarter, Jamaica still lead 24-21. For the second half, Nicole Dixon-Rochester returned in at centre for Adean Thomas after leaving the court for the final three minutes. Six minutes in and Karin Burger came in at goal defence in place of Phoenix Karaka.
More substitutions came for the Ferns, now sitting at sixteen changes. The starting shooting duo of Maia Wilson and Ameliaranne Ekenasio getting another shot at the Jamaican defence.
With 15 minutes to do, New Zealand were tasked with chasing down the on-fire Sunshine Girls, who were leading by six points. As the clock ticked down and the quarter remained a draw, things were looking bleak for the Ferns whilst the light was shining on the Sunshine Girls.
In a final effort, the Kiwis switched out their defence end, with Burger at goal defence and Jane Watson at goal keeper, now using their entire bench. It wasn't to be, and marked the first time in World Cup history that New Zealand has not medalled.
Post-match, Coach Noeline Taurua believed the team had done their best, captain Ameliaranne Ekenasio saying:
"The intent and heart was definitely out there and every single thing that we said and did and felt -- there was nothing left in the tank. Definitely gutted that we couldn't execute [...] some of our young girls in there did really great, and they're the ones who are gonna be there in four years."
In true Jamaican fashion, the Sunshine Girls celebrated in style with their signature dance moment. The celebrations were complimented by Jamaica's Independence Day, giving residents a whole public holiday to celebrate the team's success.